Testimonials from our customers

From Tim M. in Trinity, AL
Detector Deals,
I just had to send these pictures to show what I found the first day out with the golden Umax I purchased from you, best 1st hunt ever, the class ring had the young man's name on it (class of 2010) and jersey number so I was able to track him down and give it back, his Mother said he lost the ring about 6 months after he purchased it and was very excited to have it back. Going to save my money and purchase the Vaquero next..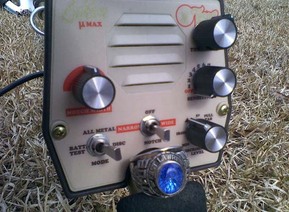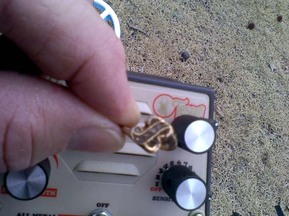 From Tripp A in Jackson, TN
I began metal detecting about two months ago using a metal detector I purchased from the flea market. I enjoyed my new hobby immensely but lacked the equipment and knowledge necessary to really be successful. I wanted a modern detector and a few searches on the internet brought me to detectordeals.com. I had the pleasure of speaking with a gentleman named Layn Huffman who, after hearing about my interest and wants, sold me on the Garrett AT PRO. I placed the order with him on a Tuesday morning and by lunch time Wednesday, I was hunting with my brand new machine. Seemingly by coincidence, I got a call from Layn almost as soon as I pulled up to my chosen spot. He offered advice on how to run my new detector and twenty minutes into a learning curve, I landed my first silver ever! This level of customer service is unheard of today. Thanks to him and detectordeals.com the silver keeps coming. I look forward to the next.

Quote from Henry P in Vermont....
I remember the first time we spoke when I was looking for a new detector, after listening, you recommended the Fisher F75 LTD. The second time we spoke I was frustrated as I didn't understand the Fisher after owning another brand for years. Well, you talked me through the settings and got me on the right track. Boy did you ever !! Last month I was exploring an old road that had a field to the West of it. Everything was normal until I decided to check the field out, after finding a cut out in a stone wall leading into the field. I starting finding Colonial buttons and a 1787 Connecticut Copper. I returned the next day and was I ever surprised. From a small 50 yard diameter in this field the F75 has pulled out 50+ Colonial buttons and about 20 coins. Vermont Copper, several Connecticut Coppers, King George II's and the best find, so far, was the diamond ring. I know the ring is Colonial as the Newest coin was 1814 and there is no evidence of any modern junk present. I am heading back once the field is mowed. Thanks for recommending a great product, but more importantly, thanks for your customer service.
Henry
Quote from Gary in Washington state...
I needed a replacement detector A.S.A.P, Layn took time after hours to get an E-trac and x-1 probe to me lightning fast! I was so touched and impressed with his service that i overnighted a crispy $100.00 bill to him as a thank you. Layn is an honest man, and i consider him a friend.

Quote from Rudy in Oklahoma...
I received the detector today and everything is great!
Thanks so much.
RUDY
Quote from Mitch in Alaska...
Hi Layn,
Dad came up and I finally got to get the GPX-4500 out and see what I could do and man was I impressed. We spent 4 days out finding gold and had a blast. Thanks for helping out you are an honest man to deal with and I appreciate that you just don't find a lot of good people in this business, thanks again and here is a photo of almost 1 oz. of nuggets we found.
Mitch
Quote from Walter in Indiana...
Thanks DetectorDeals.com
After trying to get a Sun Ray DX-1 for 5 weeks from another dealer that was to ship it out the next day in mid June .I received one from you in three days. I thank you for the grate service.
Thanks again Walter